Managing Active Directory is a repetitive and routine task yet can be overwhelming. Group management is performed in Active Directory as a means of simplifying administration and achieving flexibility. Keeping it all orderly and secure is a challenge fraught with nuance and details that are time-consuming without the correct tools.
Who are Group Owners in Active Directory?
Owners manage and own groups in Active Directory. They are responsible for updating and monitoring any changes related to group memberships, attributes, and permission settings. Group owners also ensure that groups are expired and deleted when not needed.
Active Directory groups can be created without an owner. IT administrators responsible for creating and managing groups may assign owners to groups; however, when there is no group owner, the administrators can also manage groups. Group owners do not necessarily have to be group members.
Group Ownership Limitations in Active Directory
Active Directory has some limitations, and multiple group ownership is one of them. Active Directory groups get a single owner that is set in the "Managedby" attribute. But businesses don't tend to work that way; groups need to be matrix managed. This means that ad groups should be managed by multiple users responsible for their upkeeping.
For distribution groups, Exchange 2010 has helped to bridge this gap; it facilitates multiple Exchange additional owners for distribution lists. However, this doesn't completely solve the problem as we are still left with security groups that manage a whole lot of who can do what.
Use Cases for Active Directory Groups Multiple Owners
Active Directory group management can be challenging due to provisioning and de-provisioning of a large number of resources. Groups are assigned owners to ensure structured management in the directory. However, the best approach for upkeeping groups is to set multiple owners for a group
Following are some use cases for having multiple group owners in Active Directory.
Group Management Cannot Pause
Today's cyber security requires organizations to persistently monitor Active Directory groups. Managing Active Directory groups means you must keep memberships and permissions constantly updated. The absence of this can cause delays in work or, worse, an open-end with an opportunity for a security breach. As important as these tasks are, a single owner to a group cannot always be available. This is where multiple owners are needed. Here is a use case of Active Directory groups multiple owners.
Use Case: PTO
If a user is on vacation, someone must be authorized to manage the permissions and memberships of the groups they own. An additional owner or two for a group will prevent this situation from occurring in the first place.
Users Share Responsibilities
Group ownership is the responsibility of users who have clear visibility into a group's purpose. In businesses, job responsibilities can be overlapping and complex. Often, more than one person owns the content that a group is governing. Moreover, senior resources in an organization may also delegate group management and approvals to their subordinates in their absence. Here are some examples.
Use Case: Assistant Managed Group
A vice-president at a company has a busy schedule, including unplanned traveling. Having a VP as a single owner to a group could delay approvals and project deadlines. The VP should be the primary owner of the group. However, to avoid delays, his or her assistant or Director of Engineering can serve as the group's additional owner and manage day-to-day changes..
Below screenshot from ADUC shows a group named "NBC_Engineering", where Yvette Sims is the VP of Engineering and  the owner of group, but his direct report (Director of Engineering), Lars Gorden can be an additional owner. Same scenario can be observed in the following Screenshots of GroupID Self-Service: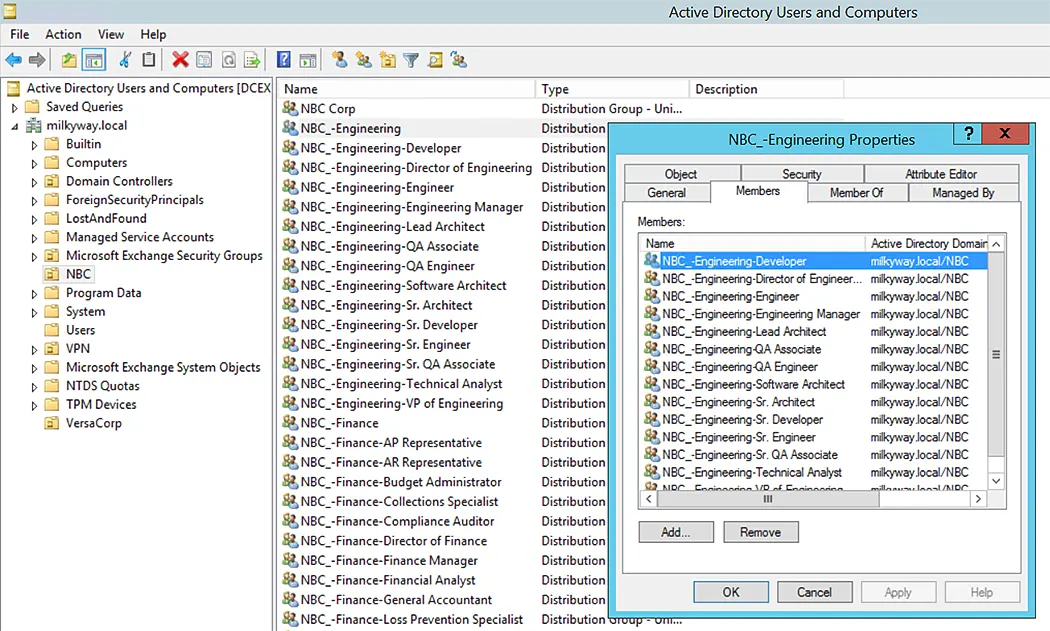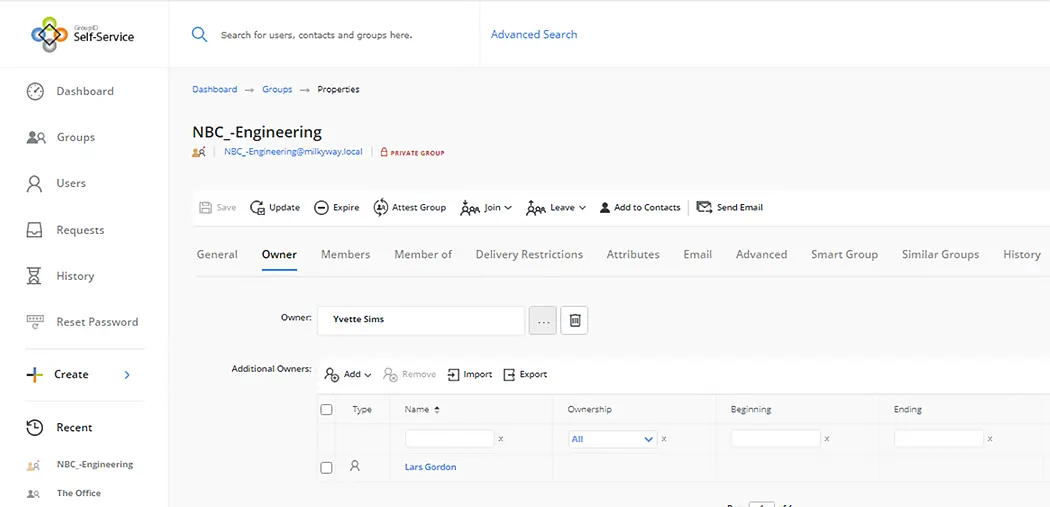 Use Case:
Project Team with Multiple Leaders
NBC's "The Office" party planning team is al a great example. The committee has multiple people managing it, and its Active Directory group would also need all leaders organizing it.
The following screenshot shows that NBC's "The Office" group has a single owner in ADUC, but you can assign multiple owners (up to 3) to it using the GroupID Self-Service portal.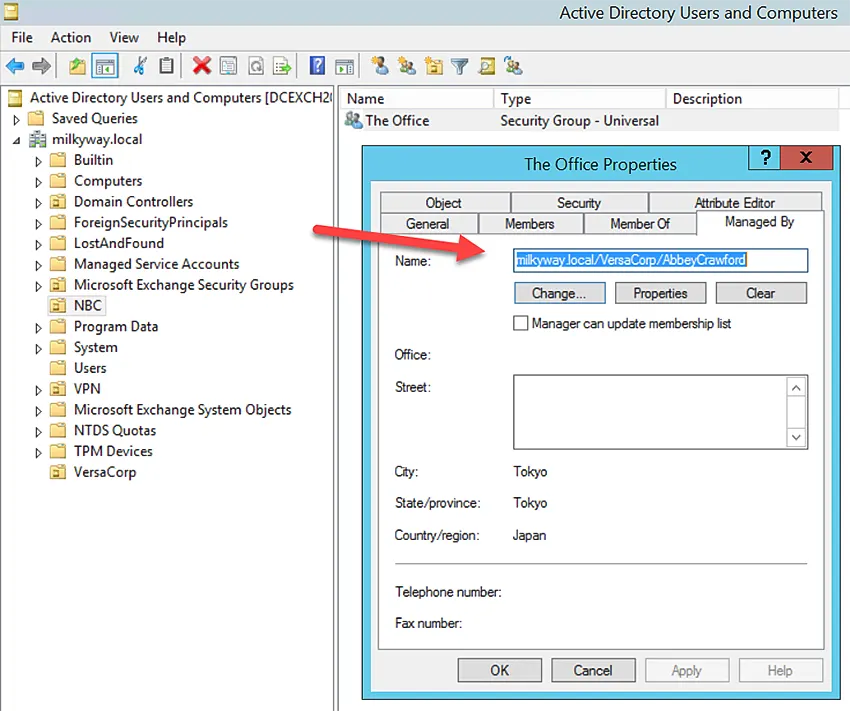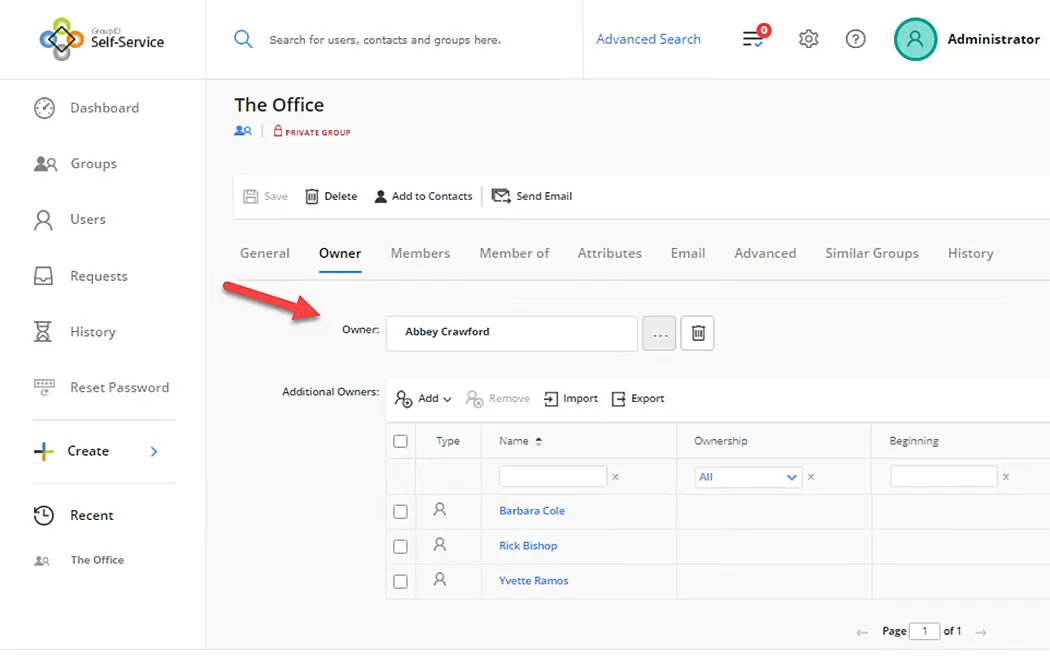 Single Owner Groups become Orphan Groups
When a group has no owner, it is called an orphan group. It may not seem like an issue, as every email and permission would work well on the surface. However, when there is an issue, it would lead to too many helpdesk tickets, or worse, a wrong user could gain access. Companies typically have hundreds of groups, and orphan groups are overlooked due to overloaded administration teams. Multiple owners in Active Directory groups ensure that groups are not orphaned
Use Case: Employee Leaves Company
When a group owner leaves the company, there is no substitute for the group's ownership. As IT teams are already overwhelmed with the administration of numerous other groups, this group may remain orphaned, unnoticed by IT administrators.
Empty Groups May Remain in The Directory
Empty groups have no members. Just like orphaned groups, empty groups may also seem harmless. However, they may pose an Active Directory governance threat. If a group is no longer needed, it should not be in the directory. Attackers use empty groups as their target path to access a company's network. Having hundreds of empty mystery groups increase an attacker's chances of finding a path to exploit. Multiple group owners in Active Directory reduce the chance of empty groups being cluttered in the directory.
Use Case: An Inactive Project 
Teams are dismantled when projects come to an end. It is the responsibility of the group owner to delete a group that is no longer needed. If the group owner is no longer with the company, no one may know the group's purpose, hence the group would continue to exist. With multiple group owners, group deletion will not be overlooked.
Group Permissions and Memberships Need a Close Check
In 95% of organizations, sensitive admin groups have numerous user accounts. The owner may permanently add users when there is a need for temporary access. Leaving temporary members perpetual may lead to a security breach. Group owners are responsible for removing user memberships that are not needed, which can be an uphill task for a single owner.
Use Case: Users In Critical Admin Groups
Domain and Enterprise Admin groups are critical admin groups in any company. Some organizations prefer that the users who perform critical operations should only have temporary membership to these critical admin groups. Backup Operators and Server Operators are examples of such Active Directory default security groups. This practice hinders wrong users from performing backup and restoration tasks on servers and domain controllers.
This level of membership control for sensitive groups can only be achieved with multiple owners.
Reduce Workload on IT Teams
IT teams govern Active Directory groups in many companies due to technical requirements. However, people who are more aware of the group's purpose should manage groups and their memberships. By having additional owners for groups, IT teams can delegate part of their non-technical jobs to those owners, hence balancing their workloads.
Use Case: Helpdesk-managed Groups
Helpdesk tickets related to groups are among the most time-consuming tasks that IT performs. Helpdesk teams can act as secondary group owners.
How to get multiple owners in Active Directory?
Active Directory does not support multiple owners for groups; however, third-party tools can be used. Group management is a challenging and continuous process. Organizations can rely on powerful directory management software to effectively manage their directories.
What does GroupID provide?
GroupID is an identity and access management solution that supports Active Directory, Azure AD, Microsoft 365, and Microsoft Exchange. For effective group management, it ensures that no group remains without a group owner. Some of its group ownership features are:
One primary owner and multiple additional owners for a group.
Multiple Exchange additional owners for mail-enabled groups.
Group policies that ensure all groups have at least one owner.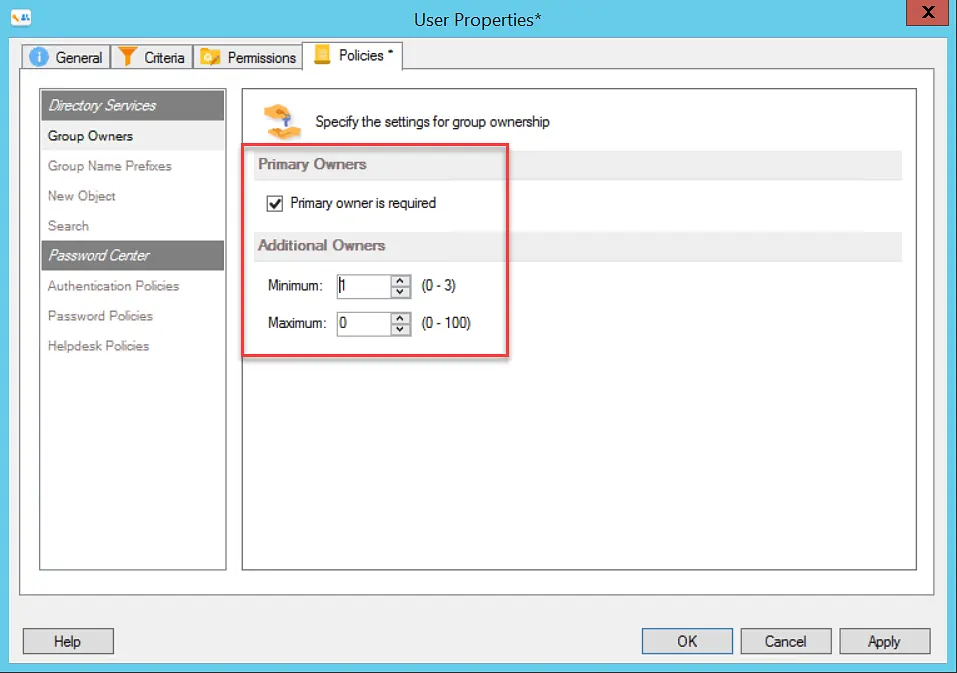 Temporary and permanent additional owners.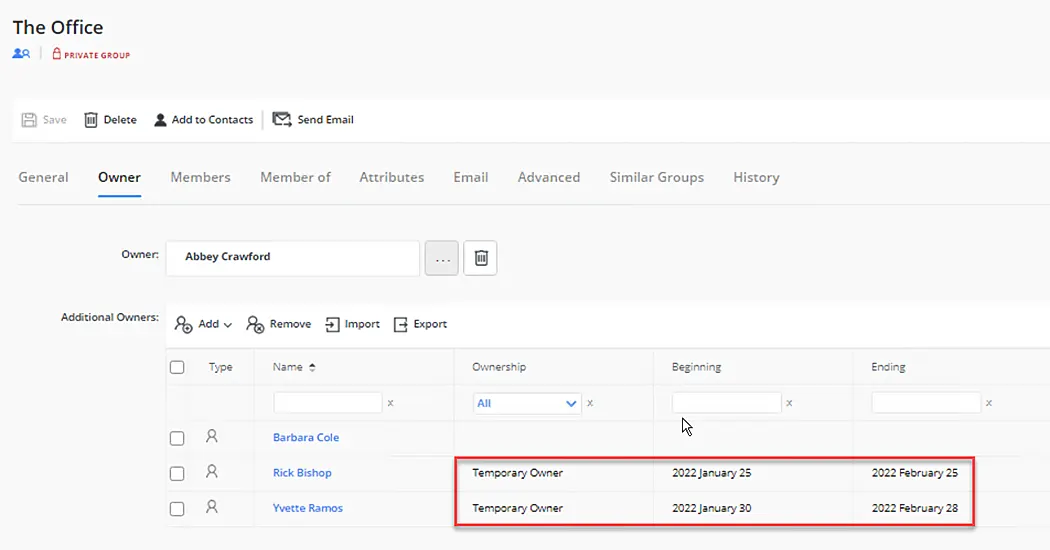 A scheduled Dynamic Group with criteria on "ManagedBy" can be created that tracks all orphan groups in the directory and later owners can be assigned.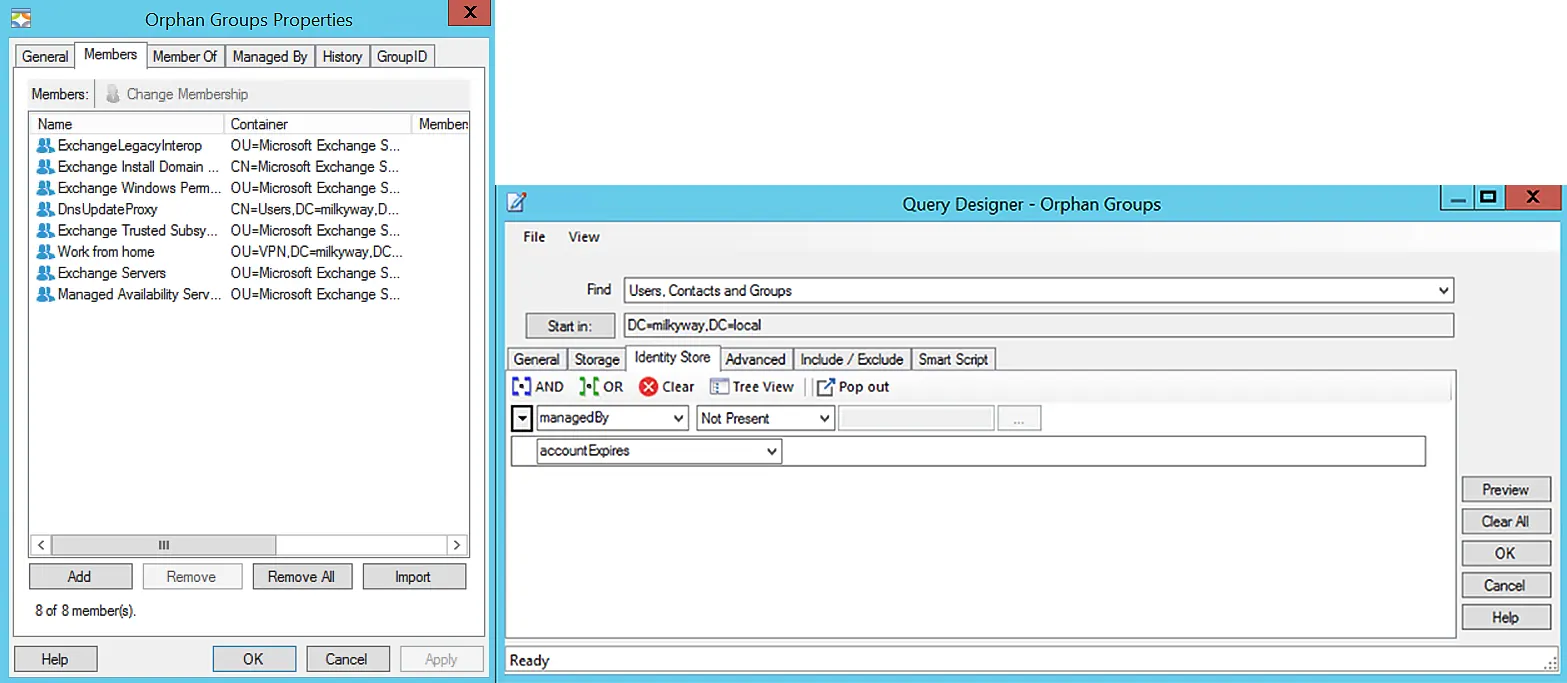 An owner suggestion feature that dynamically suggests owners for orphan groups.
A default group approver that takes care of groups without owners
Reports on groups without owners.
Summary
When managing groups in Active Directory, it is crucial to have multiple owners to ensure efficient group management. It reduces the workload on IT teams, keeps groups updated, and consequently eliminates chances of security breaches. Active Directory does not support multiple owners for groups. However, third-party directory management tools can be used. GroupID is an identity and access management solution that enables effective group management. It assists in effortlessly assigning primary and additional owners to groups.
To learn more about GroupID, book a free trial.