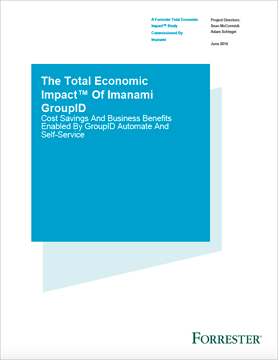 Forrester Research recently completed a Total Economic Impact study (TEI) with several GroupID customers, and the results far exceeded our expectations.
From the great feedback we've received from our customers over the years, we knew that they were saving time, resources, and money by using GroupID to manage their Active Directory groups automatically, but this independent study proves it: They are saving LOTS and LOTS and LOTS of time and money. Here are a few of the highlights:
542% ROI in just three years
Elimination of 22,000 hours in annual business and IT employee labor costs
Reduction of 78,000 help desk support tickets every year
Payback of investments in only 3.7 months
Yes, you read that right. This is NOT a typo:
So, the benefits are huge. Your initial investment is paid back in less than 4 months.
Simply put, managing your groups with GroupID is one of the smartest decisions that you could make today.
Click on the button below to download and read the complete report.