I love those ridiculous commercials for the new selling service LetGo. People are holding onto an item that they just can't seem to part with, despite the peril it may be putting them in. Like the one where the guy has the heavy bowling ball in one hand, and the other is grasping the bumper of a truck hanging over a cliff. He obviously needs to release the ball so he can grab onto the truck and pull himself to safety, but he just can't seem to part with his prized bowling ball. Then his friend tells him, "it's time to let go." (Well, ok — that may not be exactly what he said, but you get the point.) This reluctance to let go is the same for IT.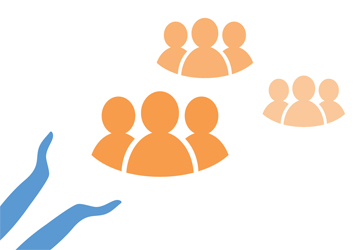 The time when IT held all the keys has come and gone. Shadow IT demonstrated the evolution of users from people who maybe didn't even know the difference between right-click and left-click, to people savvy enough to research, identify, and implement their own solutions. And users today have progressed beyond even that, where IT's role is more about providing services and serving as a liaison between business needs and technology. It's no longer a role of the keeper of all technology secrets. For example, if you use Microsoft 365 (and Office 365) for email, you are simply providing the service without needing to be the one managing it.
So, given that you're already too busy to continue trying to hold onto everything, isn't it time for you to let users be in control of some aspects of IT?
Like in the LetGo commercial, IT is in some form of peril, where holding onto control is actually hurting IT. There are often too many requests needing to be routed through and addressed by IT, which means that there are more costs needed to provide services, slower implementation of these services, and, in many cases, not even addressing the proper management of parts of the environment.
To get started, there are a few really obvious tasks that will be easy to just let go. For example, take a look at your helpdesk and the calls that come in every day. Typically, there are a ton of password reset calls. Do you really want to own that? Nope. So, adding a self-service password reset solution aligns with IT's strategy of providing services, and being cost-effective just makes sense. As another example, how about requests for access to resources? Many helpdesks need to manage group memberships on a daily basis. In this case, deploying a group management solution that provides both dynamic group memberships (so no one needs to do the work) and self-service groups (where users can freely add and remove themselves from approved groups) is a logical choice.
Don't stop there. Here at Imanami, we've consistently emphasized the need for IT to put group lifecycle management in place, taking advantage of all the "in the trenches" knowledge of managers, LOB owners, application owners, etc. — people who can participate in the process to make AD group management more effective. You don't have the time (or, frankly, the front-line knowledge of the use of each group) to keep track of all of the required information. So why not let go and allow a select group of users help?
At the end of the LetGo commercials, someone miraculously shows up, no matter how remote the location, and takes the item off the seller's hands. You have a much better situation than that — you have tons of users who will not only be willing to do some of the work themselves, but are actually happy to do so.
It's time to let go.
Jonathan Blackwell
View Profile
Since 2012, Jonathan Blackwell, an engineer and innovator, has provided engineering leadership that has put GroupID at the forefront of group and user management for Active Directory and Azure AD environments. His experience in development, marketing, and sales allows Jonathan to fully understand the Identity market and how buyers think.