I read an article today that stated that the help desk costs related to Active Directory password resets are as high as $300,000 per year for a 1,000 employee company. That seems pretty high.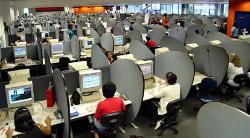 Basically, that's stating that in a 1,000 employee company, there are 3 to 5 full time help desk employees furiously resetting passwords all day every day. It either takes them a long time to reset each password or they have a very forgetful work force.
I ran some numbers through our own Password Center ROI tool and determined that over 50% of all employees would need to forget their password and 25% would have to get locked out each and every month of the year to have it add up to $300,000 in help desk costs.
That seems unlikely.
Don't get me wrong, there is a ton of ROI for a self service password reset solution. Users DO forget their passwords and they DO call the help desk when that happens. But if 50% of your users are forgetting their password every month, the problem might not be with the passwords (I'd suggest looking closely at your hiring patterns).
And it's not just this one article, I routinely run numbers through online ROI tools to find that some password reset vendors believe that 1 out of every 4 employees must work on the help desk to justify their numbers. Even though that's an exaggeration for effect, the ROI tools results just defy credulity.
That being said, Active Directory password self service will save you money. Enough to pay for the software within 1-3 months usually. Just don't buy the numbers that are being thrown around without a grain of salt. And definitely don't show them to your CIO without doing a sanity check.
If you want to see a real ROI result for a great Active Directory password reset solution, GroupID Password Center, let us know. We will happily help you calculate a real number for a real software that will really help out your help desk.
UPDATE: Imananmi has added an ROI calculator for its self service password reset solution, Password Center. We believe it is realistic.