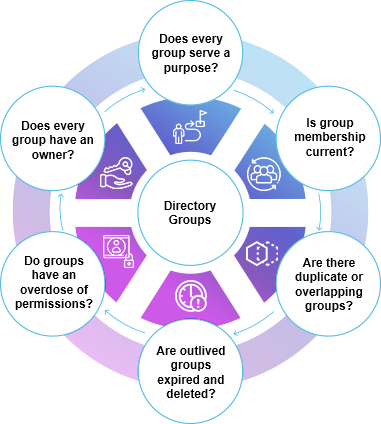 Azure AD and Active Directory group management often poses a challenge for IT administrators. Recent security assessments have revealed two main worrisome streaks in groups management:
Every organization seems to have a huge number of empty groups in Active Directory and Azure AD
Numerous user accounts that are unnecessary members of critical admin groups
Focusing into these areas may raise alarms. The lesser you know about each of your groups, the more chance that your organization's identity and access management infrastructure's security is at risk, indicating that the a backdoor into your network is wide open.
Sorting groups within Active Directory and Azure AD with precision, reliability, and security requires a reliable, automated tool. And that's just what GroupID is! It addresses all your group management needs in 3 simple steps: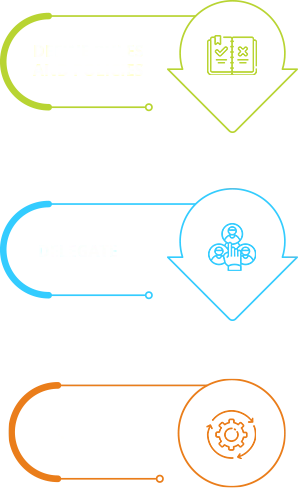 And with that, trust GroupID to take care of your Active Directory and Azure AD group management while you step back and relax.

Book a Demo
Group Management in Active Directory & Azure Active Directory
Here's how GroupID assists you with its comprehensive, feature-rich group management function.
Establish Group Ownership in Active Directory & Azure AD

Implement stringent checks to ensure that every group has an owner. GroupID also supports additional owners and temporary owners out-of-the-box. These owners must also periodically attest to group membership and attributes within Active Directory and Azure AD to justify its existence and rule out any possibility of outdatedness.

Monitor Active Directory Group Permissions

Permissions granted to users and groups on file servers can be tricky to monitor, but not so with GroupID Insights. View granular permissions that a group has on shared resources residing on file servers, then decide what permissions to keep and what to revoke. Regular group permission audits contribute to a secure network for your organization, as group permissions are just enough to enable group members to do their jobs effectively.

Groups Exist for as Long as They are Needed

GroupID offers a distinctive life cycle policy for Azure AD & Active Directory groups, which ensures that no group outlives the purpose of its creation. GroupID automatically expires and deletes unneeded groups from the directory, and even increases or reduces the life of groups based on usage.
Delegate Group Creation and Management

Reduce the overload on your IT department by delegating group management to group owners – mostly business stakeholders, managers, and department leaders. These roles are typically well equipped and more suitable for creating groups, managing members, and updating group attributes in Active Directory and Azure Active Directory. Go even further and empower end-users to opt in and opt out of groups, though under strict surveillance. GroupID enables IT administrators to implement fine-grained controls, policies, and tracking for a secure experience.

Embrace Dynamic Membership Update

Groups need to change as users switch responsibilities, roles, and locations. GroupID puts an end to the chain of manual processes by automating updates to group memberships. It is a powerful tool to dynamically maintain group memberships based on rules applied to your directory (Active Directory or Azure Active Directory) data. So, when user information changes in the directory, GroupID automatically updates distribution lists, security groups and Microsoft 365 groups, to reflect only those who need access to the information or resources the group governs.
Rest assured that your groups will never be out of date again!

Auto update group membership based on rules

Set thresholds to control unusual changes to group memberships.

Manage membership type for each member as temporary or permanent.

Trigger notifications on any change to groups

Implement workflows to approve changes to groups before they are committed to the directory.

Periodically attest group memberships and attributes

Create Hierarchal Groups in Active Directory and Azure AD
Create hierarchal group structures based on geographical, departmental, and managerial attributes, while settings inheritance options for child groups.

Stay Informed on Changes to Groups
GroupID sends notifications to group owners and other stakeholders to alert them to any change to a group, such as membership update, attribute change, upcoming group expiry, and much more.

Audit Group Changes Via Workflows
Exercise zero-trust control on your groups with GroupID workflows. Apply checks on group-related events (create, update, delete) and group attributes (expiry policy, group query, group ownership, and much more) to delegate with oversight. Workflow-controlled changes must be approved before they take effect.

Comprehensive Reporting Is Key to Sound Analysis
To manage your directory, the first step is to understand its current state. GroupID's reporting function enables you to query the directory with a variety of parameters and generate the most reliable reports on objects. It was never that easy to:
View a list of Active Directory and Azure AD security groups and DLs (distribution lists) in your domain.
Look up for expired groups, deleted groups, groups without members, groups without owners, and groups with disabled objects as owners.
Harness messaging provider attributes, such as check the last time a mail-enabled group was used and the groups that a mail-enabled recipient is a member of.
When combined, GroupID's solutions around Group, User, and Entitlement Management provide the
knowledge and peace of mind IT needs to best manage your organization
Start Your Free Trial To Get Better Groups And Security