A quick story. Two blogs run the same poll about securing SharePoint using groups. One blog is SharePoint-centric. The other blog is Active Directory-centric. The question that has been on everybody's mind is, how will the results differ?
The question was simple: do you use Active Directory groups, SharePoint groups or both to secure site access in SharePoint? Only three answers are possible though I really wish I had some more data like organization size and BPOS usage to break the data down further. But since I don't here are the answers to our AD-centric poll: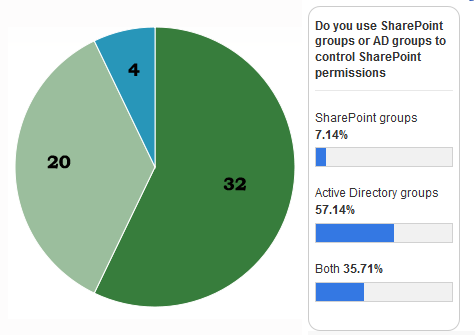 4 out of 56 (7%) respondents said SharePoint groups only, while 32 out of 56 (57%) used Active Directory groups exclusively. To my mind, the pertinent number is that almost 93% of respondents used Active Directory groups in whole or in part.
To contrast that to SharePointEduTech's poll, they have 51% using Active Directory groups only, 36% using a combination, and 13% using SharePoint groups only. It's close but understandably a bit skewed to our target audiences. In either case, between 87 and 93% of you are using Active Directory groups to secure SharePoint and that is a big number.
I've closed the poll in the sidebar but would be absolutely thrilled to give your organization a demonstration on how to ensure accuracy of those Active Directory groups that everyone uses and make sure that SharePoint is as secure as possible. Contact us now!

Jonathan Blackwell
View Profile
Since 2012, Jonathan Blackwell, an engineer and innovator, has provided engineering leadership that has put GroupID at the forefront of group and user management for Active Directory and Azure AD environments. His experience in development, marketing, and sales allows Jonathan to fully understand the Identity market and how buyers think.