Managing LDAP groups in the Enterprise
Today's enterprise-sized businesses have moved beyond the single on-premises directory. The need to leverage platforms and applications that reside outside the four proverbal walls of the organization have resulted in an uptick in the use of 3rd party LDAP directories within these environment, whether hosted on-prem, in a corporate data center, or in the cloud.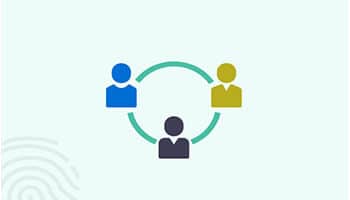 The goal of all this is simple in concept: a seemingly unified directory, leveraging systems of record, and syncing user and group accounts across many directories to create as close to a single environment as is possible.
With the overwhelming dominance of Active Directory, many vendors realize the futility of trying to build out an entire directory service of their own, thinking it will be the new standard. So, they take the route of, instead, either integrating with AD, or (for those systems and applications that don't want to rely on AD being continually present to be functional) to create an LDAP-compliant directory and some sort of sync functionality. And, because their expertise is more so in the making of the system, platform, or application the LDAP directory is supporting, the management features and granularity within the directory tend to be on the more fundamental side.
In this 3rd article in a three-part series where we've covered group management in enterprise suites including Google Workspace and Microsoft 365 (and Office 365), we'll cover what you should be looking for to ensure your LDAP directories are managed properly, accurate, and useful to assist both enhanced productivity and security. So, we'd like to take the remainder of this article discussing some of the functionality you should be looking for in order to properly manage your LDAP directories as part of an enterprise implementation.
Needed Group Management in the LDAP Enterprise
Because there's no way for us to know exactly which applications and platforms you have in place – each with their own directory service and integration capabilities, we're going to cover the needed group management functionality from a generic perspective.
The following list represents the kinds of group management functionality you should be utilizing across all of your LDAP directories in order to achieve the goal of that single unified directory:
Detailed Synchronization – Think more than just copying user and group accounts; every property (attribute) of those accounts (more on why in the next bullet), as well as, potentially, any other object types that may be taken advantage of within each of the LDAP directories.
Dynamic Groups – Group objects usually serve as the basis for assigned permissions to resources. But one of the challenges with multiple directories is keeping every group in each directory up-to-date. So, updating group membership dynamically based on accurate object parameters and values (such as location, department, or title) – which came from the detail sync previously mentioned – creates an environment where users always have the correct access and IT doesn't need to manually do the work.
Intelligently Nested Group – One of the architectural benefits of a directory is to imply communication or access through nested group hierarchy. While this is an excellent way to reflect levels of access, it can become unwieldy and large organizations will find it difficult to visualize or comprehend the inherited access implications. It is best to nest groups based on a set of rules or policies that reflect the actual way you view your communication, security, or organizational hierarchy. This type of automation then requires no ongoing management as the changes always reflect the intended way the business is structured.
Group Self-Service – As enterprises increase in size, the cost of managing group memberships becomes a true cost center for IT. By allowing users to either add or remove themselves to groups, or at least make the request to IT easily through a portal, both IT and user productivity is increased.
Based on System of Record – You can see how valuable correct property values are to implement dynamic and self-service groups. This is why the data needs to be hyper-accurate, which means you can't rely on manual updates from IT (as we all know, it will never get done). So, ultimately, your synchronization efforts need to stem from a system of record that continually remains accurate. A great example is an HR system (as HR does maintain correct specifics about each employee including title, location, department, etc.).
Centralized Management – Here's where you need to tie this all in together. As previously mentioned, it's unlikely an application vendor is going to put a ton of development effort into their directory, other than to make it functional and easy to use to provide access to the application-specific resources. So, having a way to centrally facilitate each of the aspects of management above across all your LDAP directories would improve security, IT efficiency, and user productivity. The goal is to leverage a way to make a change once (adding a user to a project group) once and have that change reflected in every LDAP directory, providing appropriate access to each and every resource that group membership provides access to enterprise-wide.
Automation – We've mentioned automation before in this series. It's an important part of making the entire mega-directory, as it were, work. Functions like user self-service (which usually require some kind of approval workflow), and dynamic groups (which need to update within very short time windows to be effective) truly require automation if they are to be of benefit to the organization.
Making LDAP Directories Work as One
LDAP-based directories provide applications with the foundation necessary to function well in the enterprise. But organizations leveraging many of these same directories need to be looking at the bigger picture of how to manage them all as a single, unified environment. Look for ways to implement the management functions listed in this article (which can be achieved through either an in-house custom or 3rd-party solution), focusing on the accuracy of directory data, and proper group management that ripples throughout each and every LDAP directory. By doing so, you will create an environment that ensures every LDAP directory, it's objects, parameters, and groups are all up to date, yielding better security and improved productivity.
Free No Obligation Demo
The best way to understand how we can help you get organized is to see GroupID in action. Click here for a personalized demonstration.