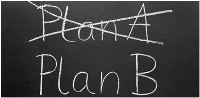 I saw an interesting article recently from WindowsIT Pro Magazine that asked if your organization was prepared for what could very likely be a year of greater than normal employee turnover.
Then, I got an email from LinkedIn that pointed out all of my contacts who had changed jobs in the past year. That number was a surprising 17 and a half percent!
Maybe there is something to this change is a comin'… Remember how crazy it was as we came out of the dot com meltdown?
It might be worth thinking about how well your systems can handle significant employee turnover within the organization. As you well know, turnover means having to handle the same "job" multiple times. You have to disable then delete the terminating employee's user account. Then perhaps create and activate an account for a contractor while a search goes on for a full time replacement. Disable and delete that account when a full timer is found, then start all over again with a new account (or just change the contractor's status to a full time employee.)
If you miss any of these steps in the Active Directory provisioning & deprovisioning cycle, your cost is days of productivity and/or leaving a gaping security hole. Do you really want to have to explain why an employee who has been gone for a month is still in the GAL (even if their account is disabled)? That's a real example by the way, from someone I spoke with this week.
If you haven't already automated that whole process this could be the time to think about it.
But the question remains. Are you ready?